First International Workshop for Postgraduate/Research Students on
Utopias: Imagining Other Worlds
Date: 13-14 December 2018
Venue: Audio-Visual Room, Department of English, UG Arts Building, Jadavpur University, Kolkata
Organised by: Centre for Advanced Studies, Dept. of English, Jadavpur University
This workshop explored the mobile, cross-cultural nature of utopia. The workshop was led by Dr. Barnita Bagchi, University of Utrecht,  and Dr. Nilanjana Deb, Jadavpur University.
Students went through extensive readings circulated before coming workshop. On the first day of the workshop, they were introduced to various concepts of utopia and utopian thought of relevance to the present day. On the second day, students presented short papers on utopias applying their understanding of the readings provided for the workshop. Students also deisgned their own utopias, based on a questionnaire circulated to them; this was experienced as one of the most innovative components.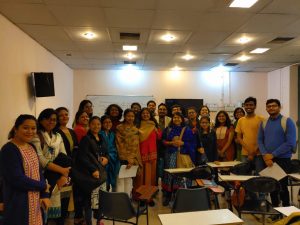 Topics of student presentations were exciting and diverse; some examples are: Wakanda, representations of Shangri-la; Poison Ivy; Margaret Atwood's fiction for children; Bankimchandra Chhatopadhyay's Anandamath; Badal Sircar's Beyond the Land of Hattamala; Niccolo Manucci's Storia do Mogor; ecotopian readings of Atin Bandyopadhyay's children's fiction. Certificates were awarded to those who successfully completed the workshop, including the presentation of papers.