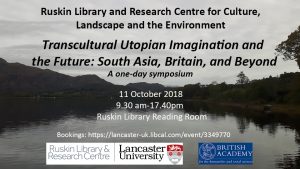 Symposium: Transcultural Utopian Imagination and the Future: South Asia, Britain, and Beyond, 11 October, Lancaster University
Programme
9.30-10.00 Coffee and Registration
10.00-11.00 Introduction to Symposium by Sandra Kemp – followed by provocations and questions on 'Indo-British Entanglements in the Early 1930s: Social Dreaming, Futures, and Dialogues Across Cultures in Turbulent Times' by Barnita Bagchi
11.30-13.00 Presentations (10 mins each) on 'Futures' by Chakravarthi Ram-prasad, Sandra Kemp, Lindsey Moore and Rebecca Braun, followed by questions and group discussion. Chair: Lynne Pearce
14.00-15.00 Sangeeta Datta (filmmaker, curator, director, academic, singer). Keynote Lecture on Identity, Diaspora, Aesthetic Form, and Performance, 30 minutes, followed by questions and discussion
15.00-16.00 Presentations (10 minutes each) on 'Lancaster Utopias' by Monika Buscher, Nicola Spurling, and Lynne Pearce, focusing on transcultural and utopian dimensions of research and events undertaken in Lancaster in the past 10 years. Chair: Sandra Kemp.
16.30-17.15 Migration, Identity, and the Creative Now-here of Manchester. British South Asian writers Shamshad Khan and Qaisra Shahraz, in conversation with Barnita Bagchi and Lynne Pearce.
17.15-17.40 Summing Up, Carlos Lopez-Galviz, and closing colloquium discussion
Registration open, and is compulsory. Please email j dot m dot shepherd at lancaster dot ac dot uk.